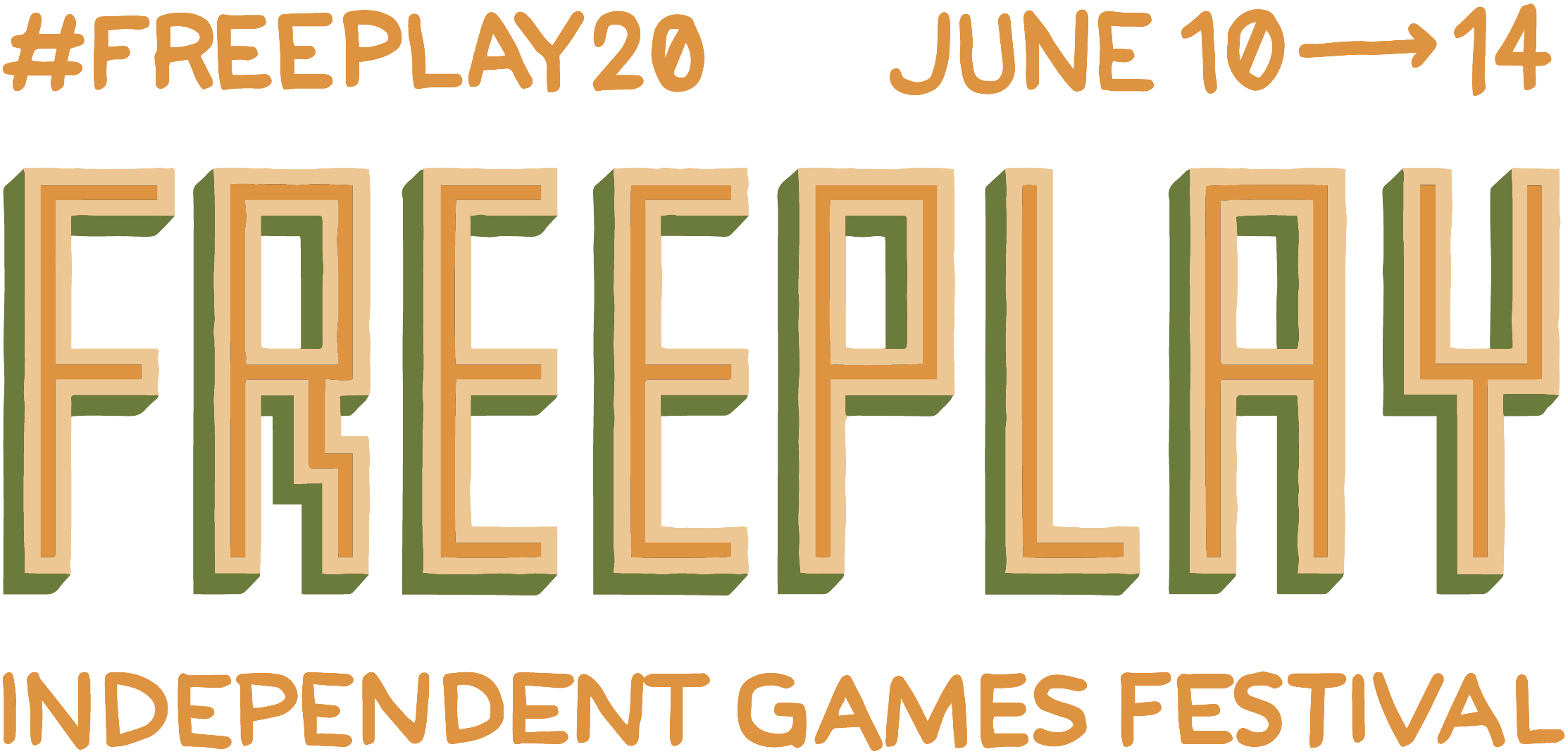 Freeplay 2020 Festival Schedule
All our Freeplay 2020 sessions are accessible for free on our YouTube channel.
04:00 pm - Welcome to Freeplay 2020
Our director Chad Toprak walks us throught the 2020 programme and theme, highlighting sessions to sign up to and look out for. Some thank yous and house keeping is also in order.
05:00 pm - Freeplay 2020 Keynote // Bahiyya Khan
Bahiyya Khan is a multiple award winning game designer and writer from Johannesburg, South Africa. She is most notably known for the IGF winning game, after HOURS, which is an FMV game about a young woman that was molested as a child and suffers from Borderline Personality Disorder as a result. Bahiyya is currently doing her Masters in Film which she also lectures part time. She likes this because she gets to show people the same series she's been watching on repeat since 2009. Bahiyya makes games for social change, to tell marginalised people's stories and to scream about My Chemical Romance. She only cares if teenage girls like her work.
06:30 pm - PANEL: Directors of Freeplay: Looking Back
Panel members: Harry Lee Shang Lun, Chad Toprak, Dan Golding, Paul Callaghan, Katharine Neil, Marcus Westbury
This unprecedented panel will bring past and present directors of the Freeplay Independent Games Festival together for a sesison of reflections and oral history. What went right, what went wrong, what could have been done better. Each director will step through what they perceived to have enabled during their time. The panel will then discuss the future possibilities of where the festival may venture towards.
08:00 pm - PANEL: Rising SEA, South East Asian Gamedev Gathering
Panel members: Gwen Guo, Brigitta Rena, Duncan Soo, Michelle Chen
Following our sessions in 2018 and 2019, we check up on our lovely neighbours in South East Asia and dive deep into some of the exciting and important things happening in the region.
A big highlight for this year will be the ambitious Rising SEA project, a multi-country initiative that brings game makers and creatives from other disciplines together to collaborate and jam. This year's theme being "Woven", we saw game makers, artists, and musicians gather to make interesting and wonderful works.
What's more, our panel of four from Malaysia, Singapore, Indonesia, and the Philippines will discuss some of the strengths, challenges, opportunities, and struggles independent game makers in South-East Asia face. There will maybe be food talk.
11:00 am - PANEL: Why So Serious: Games as More than Entertainment?
Panel members: Hailey Cooperrider, Nick Argall, Steve Dee,  James Elliott,  Eris Alar
"Serious" has become a catch-all term for games that do "more" than entertain, but does this risk an unhealthy division between highbrow and lowbrow, similar to what we've seen in other art forms? Will our attempts to expand the influence of games lead to new forms of exclusion?
In this panel, we'll examine all the different ways in which games can deliver on "serious" purpose and impact. Our conversation will emphasise the growing potential to sell games, or game design services, in different market contexts, as ways to educate, motivate and inspire behavioural change and new outcomes. We want to discuss not just where things are now, but build new language, and explore ideas of what the future could be.
Our panellists bring real stories at the intersection of fun and purpose. James has produced puzzle games for QUT and the Queensland Museum. Eris has developed games with a social purpose for The Salvation Army. Nick develops games for Hybrid Simulations that teach skills needed by large organisations. Steve has had several Freeplay nominations for his serious games.
01:00 pm - PANEL: Indie Bands × Indie Devs: a pilot project // VMDO
Panel members: Maize Wallin, Cecile Richard, Nick Brown, Bonnie Dalton
Welcome to the Victorian Music Development Office's initiative to bring indie bands and indie game developers together in Victoria! Indie game developers and indie bands in Victoria have heaps of similarities. We both have a huge DIY culture, constantly innovating, sensitive to community, and making ground breaking strong and personal art. VMDO wants to help these two bubbling scenes explore combining their skills to make small musical game experiences.
This panel with the Victorian Music Development Office discusses collaborative processes so far, legal framework, and the differences between traditional games composers, sync music libraries, working with record labels, and bands. Local game audio specialist Maize Wallin moderates this discussion between game industry and music industry creatives.
VMDO: https://www.vmdo.com.au/
This session is supported by the Victorian Music Development Office.
03:00 pm - WORKSHOP: Mock Videogame Auditions // Aimee Smith
Professional Voice Actor Aimee Smith is offering the opportunity for Freeplay attendees to step up to the microphone virtually and playfully audition for some of wonderful indie games that have come out of Australia! Whether you are an aspiring or professional voice actor, or just want to have some fun with friends, you will be lead through the process of an audition experience, with the added twist of having the audience vote for their favourite performances! There will be virtual prizes for two contestants. What have you got to lose? Step into the role of a video game voice actor for the hour!
Sign up to this workshop: HERE
Note: Participation is limited to 20 participants and streamed online for all audience members.
05:30 pm - PANEL: Games as Digital Literature // Voiceworks
Panel members: Rory Green, Carly Stone, Cecile Richard, Lujayn Hourani
Games and literature share a common thread: both involve telling stories with heart and imagination. So how can these two creative communities support one another? Voiceworks Online editors, game designers and writers working at the cutting edge of the Australian literary community discuss their experiences using games to tell stories, and share what how literary approaches to narrative could benefit gamemakers.
Voiceworks: https://www.voiceworksmag.com.au/
07:00 pm - PERFORMANCE: Playful (Voiceworks Reading Night)
Readers: Rory Green, Carly Stone, Lujayn Hourani, Cecile Richard, Jess Cockerill, Riley Frances Daisy
A showcase of readings from Voiceworks that look at 'Play', both directly and formally. The readers would be from a mix of the print and online, and would be a mix of stuff that is really clearly game-like or about games, and stuff where it's pushing ideas of play in writing, with tone or structure or themes that we see (and hope to encourage others to see) links in but that might not typically be considered as relevant to game devs.
Voiceworks: https://www.voiceworksmag.com.au/
This session will be delivered as a pre-recorded video.
08:30 pm - A Bushwalk in Red Desert Render // Ian MacLarty & Kalonica Quigley
Join Ian & Kalonica as they traverse the beautiful landscapes of Red Desert Render, a game inspired by the out-of-bounds glitch worlds of Red Dead Redemption.
Download Red Desert Render: https://ianmaclarty.itch.io/red-desert-render
11:00 am - Compassion as a Game Design Practice // Cyril Focht
This talk is about the use of compassion as a game design practice for Sonder, a piece of hypertext fiction about a day in people's lives. A core theme of the game is how different people show compassion to one another, and in the interest of that theme, compassion has been a driving force of the design process. This talk discusses how compassion has been made central to the design process, how compassionate practices in other aspects of life have had tangential effects in design, and plans for building on this, moving forward in Sonder's development.
12:00 pm - Finding a Place in the Industry // Fabian Mora
This session will talk about Fabian's Journey from going from Mechatronics Engineering to Animation, Games and Interactivity, all of the Ups and Downs, using what he learnt in his field to develop his research and how he could belong and find a place in the creative Industry.
Fabian is a game developer, 3D artist, and animator, whose works primarily focus on creating novel, experimental, and engaging user experiences. While he did a Bachelor in Mechatronics Engineering in Colombia, since his childhood Fabian always had a fascination for video games, he always wanted to develop a game someday but never thought it could be possible. It wasn't until the opportunity of him going to Australia to study a Master of Animation,Games and Interactivity that that possibility of creating a game could become a reality.
01:00 pm - ROUNDTABLE: Making Space: Empowering Underrepresented Voices
Participants: Michelle Chen, Amani Naseem, Phoebe Watson, Maize Wallin, Rin Mcbeath, Jess Marcotte, Marie Claire LeBlanc Flanagan, Dietrich Squinkifer, Creatrix Tiara, Sithe Ncube, Laura Palavecino, Ida Toft, Amber, Daniella
WiDGET (Women in Development, Games & Everything Tech) is transitioning to Making Space.
Making Space is a not-for-profit co-operative support organisation empowering minority and underrepresented people in game development and technology spaces to maintain an improved quality of life and facilitate the creation of their own diverse and interesting experiences.
This roundtable will feature the new board of Making Space, as well as a few friends from all over the world, who are also creating more inclusive spaces. What are the issues faced in this work – to make existing spaces more inclusive and creating new spaces – and what are useful strategies? Gender and sexuality is under different rules and regulations, and is impacted by local culture. What impact has colonisation had on the cultural perception of gender, and what does this mean for inclusive spaces?
They will talk about their respective experiences creating these spaces, strategies to support each other, as well as the value and importance of such spaces.
This session will be delivered as a pre-recorded video.
03:00 pm - Making Games Inclusive for a Disabled Audience // Cameron Hopkinson
Disability and video games have a complicated relationship. Games are a very common means for disabled people to socialise and make friends, they also allow disabled people to have experiences that would otherwise be near impossible for them. Despite this, games and the culture surrounding them are often not as inclusive of disabled people as they could be.
Games frequently have problems with accessibility (such as lacking subtitles or button remapping) that can make a game uncomfortable or unfeasible to play. Disabled characters are quite rare in games and those that do contain disabled characters often use demeaning tropes and stereotypes, even in games with well-considered accessibility features.
This talk will examine some common pitfalls that can make a game not inclusive for a disabled audience and discuss how these can be avoided or mitigated. This will include an overview of prevalent accessibility issues in games, resources/advice for making games more accessible, an examination of the representation of disabled characters in games, and a discussion on why making games that are inclusive of disabled players matters.
05:00 pm - No Budget, No Bosses: The Making of Utopias // AAA Collective
AAA Collective members Chloê Langford and Jira Duguid will explain how they survived making their latest game "Utopias: Navigating Without Coordinates" in a ten person collective with no budget and no bosses. They will cover the ups and downs of non-hierarchical videogame development including: how to make a decision when you're a hydra with ten heads, battling your inner scrum master, putting people before products, transforming bureaucratic machines into poets and playing hide and seek with burnout. Spoiler: they don't have all the answers. Join Chloê & Jira to find out what the hell they think a collective is anyway, and why they think people – not companies – should own videogame culture.
06:30 pm - Immersive Art as Therapy // Sarah Ticho
What role can creativity and immersive technology play in understanding pain and mental health conditions?
This talk will explore the translation of existing arts and health research method, bodymapping into a virtual reality experience and the exponential opportunities it offers across communication, pain management and research. We will also discuss the opportunities for creatives and games makers to work with scientists, psychologists and patients and imagine what the future of games and healthcare could look like.
08:00 pm - PERFORMANCE: Robot Dragon // Tegan Webb & Georgia Kartas
'Robot Dragon', a reading for Freeplay, will be an exercise in collaborative performance and storytelling. Writers Georgia Kartas and Tegan Webb have written a non linear story in Twine, with multiple paths through to many potential endings. Georgia and Tegan will take turns in leading the other through the their story – one will choose which path to take, the other will read the story aloud. Part performance piece, part trust exercise, 'Robot Dragon' will explore new potentials in collaborative, interactive storytelling, from two people who have found a place to belong in the in-between spaces of genre and medium.
This session will be delivered as a pre-recorded video.
11:00 am - WORKSHOP: Video Chat Games Adapted From Improv Comedy // Melissa McGlensey & Douglas Wilson
In this online workshop, improviser/comedian Melissa McGlensey and game maker Douglas Wilson teach a variety of simple social games for play on video chat that they've adapted from the improv comedy tradition. Throughout the workshop, Melissa and Doug will synthesize broader takeaways on playful performance, game design, and adapting games to new contexts.
Sign up to this workshop: HERE
Note: This workshop is limited to 12 participants and streamed online for all audience members.
03:30 pm - Neither Here Nor There - Designing Far From Home // Aaron Lim
Far From Home is a tabletop storygame, using the 'belonging outside belonging' framework by Avery Alder and Benjamin Rosenbaum, about immigrants and outsiders exploring what it means to live and thrive in a culture that is not fully your own. In this session, the designer will go through the design process for the game from its conception to current iteration. This will also act as a frame to highlight interesting developments in the world of indie roleplaying games, which informs and influences this game's design.
05:00 pm - MICRO-TALKS: Rituals of Play in a Global Pandemic
Speakers: Douglas Wilson, Melissa McGlensey, Harry Lee Shang Lun, Rami Ismail, Marie Foulston, Patrick LeMieux, Stephanie Boluk
Even in time of crisis, we can't shake our innate desire to play. Amid more serious headlines about global tragedy, we hear strange and touching stories of people adopting new rituals of playing together: family boardgame nights over video calls; gallery exhibitions in online games like Animal Crossing; Lego sets selling as quickly as toilet paper. In this special online session, as part of the 2020 Freeplay Festival, we'll hear from six game makers, curators, and creative professionals as they reflect on how their own play practices have adapted to pandemic conditions, and what those new rituals might tell us about life under lockdown.
This session is supported by Knowledge Melbourne.
07:00pm - Freeplay Z•O•N•E // Cecile Richard & Jae Stuart
Join us for a new and exciting collaboration between Freeplay and Cecile Richard & Jae Stuart.
Introducing Freeplay Z•O•N•E, an online space to hang out, watch live streams, play games, and chat to festival attendees.
Featuring: indie band Cable Ties, who will present a mini-gig in the ZONE. Tune in as they perform the concert live in conjunction with the online music festival Isolaid.
10:30 am - WORKSHOP: Zine Making // Tegan Webb
We can use zines – DIY self-published and made booklets or leaflets – to avoid creative burnout, and take us out of our usual creative sphere into another one.
Get ready to cut, paste, write, draw, fold, and leave this workshop with your very own zine, and hopefully incorporate less pressure surrounding finished or polished projects in your chosen creative field.
Sign up to this workshop: HERE
Note: This workshop is limited to 20 participants and streamed online for all audience members.
12:30 pm - Getting Over It: Game Design in Bouldering
Panelists: Harry Lee Shang Lun, Jonny Hopkins
Bouldering is the rawest form of rock climbing: no rope or harness, just you and tricky puzzles for your body. Outdoors, that usually means traversing or getting to the top of a small rock formation by any means possible, whereas indoor bouldering is a playful dialogue between you and the bouldering gym's routesetters – the level designers of the bouldering world.

The job of a routesetter is to create problems that are challenging and fun to climb, but they also help curate the culture of a bouldering gym and directly contribute to the future of an evolving sport, design practice, and community. In this gripping session, join a team of designers, climbers, and routesetters as they explore the intersection of games and bouldering.
02:00 pm - Taste of Home: Food as Love Language // Trina Pagtakhan
Growing up and being exposed to food in pop culture, from Cooking Mama's guided food preparation, to Ratatouille's mouth watering fresh cuisine, Final Fantasy XV's unbelievably realistic food models to the mobile game Hungry Hearts created a drive to make games that place food as its centerpiece, and the stories surrounding it.
It's human to eat a bowl of warm chicken soup in these rough times, to give you comfort. How a rice dish like congee takes different forms in different countries. Because food is beyond nourishment for the body, it is nourishment for the soul.
The old saying "food is the fastest way to the heart" is Trina's way of representing Philippine cuisine and bringing happiness through the games she makes. Maybe this is why food is a love language, and why so many unspoken words and emotions – culture, heritage, resistance, and belonging – can take form in Mom's signature beef stew.
This session will be delivered as a pre-recorded video.
03:00 pm - Listening and Sounding as Play // Uyen Nguyen
Play has long been a mode of engaging with the world and of constructing meaning and experience. Listening brings together our selves and our place as connected beings. What happens when a maker plays to create and seeks to feel and evoke feelings of belongings?
Inviting everyone to laugh, whisper, hum or stomp their feet to play. Walking the streets and listening to the city to reimagine everyday life for animations. YOMECI (You, Me & the City) is a series of works that investigates the playful and embodying potential of listening and sounding through the different forms it takes.
YOMECI was started when Uyen couldn't sit still in the studio to write her animation script and thus soundwalked Melbourne streets where the quirkiness and heartfeltness of her work belongs to. In this talk, Uyen will speak about YOMECI and come back to the very beginning of how things all started: hearing a voice message of a loved one.
04:00 pm - Being a Playful "In-Betweener" // Helen Kwok
3D Artist. Programmer. Producer. Game Designer. Audio Designer. 2D Animator. These are all well-established roles in the games industry, with set expectations on what each role does. Students at universities are often encouraged to develop their skills in a specific role, specialising in a particular field or piece of software technology. But what if you find yourself not belonging in any of these categories? What if your interests and practice lie in-between the boundaries of these disciplines? For game-makers who don't come from a traditional games background, where do they belong?
In this talk, Helen will be drawing from her own experience as an "in-betweener" – someone who doesn't quite belong in any specific field or discipline – to create playful installations, games and experiences. She will be sharing her journey on how she struggled to define herself as an artist, challenged traditional labels and roles, traversed different fields and technologies to bring her concepts to life, and questioned her own practice working at the intersection of games, art, design and play.
05:00 pm - On Worldness and the Poetics of Social Spaces // Demi Schanzel
Though short-form, within this talk we'll be exploring the architectural poetics of other spaces. From how video game mechanics inform these worlds, to social software and the soft atmospheric tranquillity of your local café. Discussing how our digital spaces may grow (and be inspired) to become warmer kindred places of social connection and being.
Download Library of Babble (Freeplay Edition): HERE
06:00 pm - Belonging to a Game World // Federico Fasce
This talk explores how as humans we connect a relate to game worlds. When a space or a game world does feel meaningful and interesting? How digital spaces can create a sense of belonging? How they make us feel alien?
Taking from Marc Augé's non-places theory Federico reflects on how game spaces are built and what elements makes them meaningful. How game environments can create a connection to the audience rather than being liminal spaces which purely exist in order to contain certain game mechanics. Can we build experiences that stand out while treating the player as a human being and not seeing them in a purely utilitarsitic way? The talk focuses on anthropology, on language and on the construction of ritual in order to better understand how and why certain spaces are charged with meaning and retain and transmit the history and culture of the people who inhabit them. If a digital space can we made in a way that gives a sense of belonging to people, it can also be used as a way to communicate emotions, feelings and deep messages.
07:00 pm - Freeplay 2020 Digital Awards Ceremony & Closing Remarks // MC Jonothan Rubock
Join us for the final event of the festival, the Freeplay awards night, proudly sponsored by House House and generously hosted by League of Geeks. On Sunday night, we celebrate Freeplay 2020 with MC Jonothan Rubock, and announce the winners of the 2020 Freeplay Awards! Ten games, ten awards.
The Freeplay Awards highlight bold, experimental, diverse, delightful, and culturally significant games coming out of Australia and New Zealand.
Freeplay acknowledges the Wurundjeri & Boon Wurrung people of the Kulin Nation as the Traditional Custodians of the Lands upon which the festival takes place.
We pay respect to their Elders past, present, and emerging, and to all Aboriginal and Torres Strait Islander people in the wider community and beyond.
Sovereignty was never ceded, and this always was and always will be Aboriginal land.