Paper House to host Independent Game Festival Freeplay: Parallels
Hey friends! We're delighted to announce that Freeplay Parallels will again be part of Melbourne International Games Week this year, taking place on Thursday 6th of October!

Making it possible is the super special team at Paper House, who are stepping up to run Parallels 2022 while the Freeplay board completes our independent review (more on this later).
Based in Melbourne, independent games & creative studio Paper House have a close history with Freeplay – their lovely, award-winning game Paperbark was part of the 2015 Parallels lineup. They're fierce believers in the experimental and artistic fringe of local games, and we're excited to see what they bring to an interim Parallels. Want the opportunity to work on Parallels? We'll soon be advertising a paid role in the interim team, to create an open opportunity for someone passionate about Australia's independent games community to be part of Freeplay. More to come soon! Deciding whether to be active at all in 2022 was a tough question for Freeplay as we continue a review of our purpose and scope. Working with Paper House- an experienced team who understand Freeplay and local games well – lets us hold a space for independent, artful games in Games Week, while also saving the important work of appointing a new ongoing Director and core team for post-review. We're almost there, and hope to have more to share about our future in Spring. In the meantime, we're so, so happy to say we'll be seeing you at Parallels this year.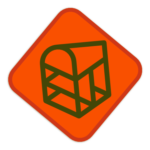 Words from Paper House:
We feel absolutely humbled and honoured to be asked in handling such an important and prestigious event. For years Parallels has been the stand out event during Games Week and the highlight for many. It gives an opportunity for new local voices to be heard, extremely talented established game makers to showcase new work and advocate for the importance of independent games culture in Australia. Parallels means the world to us and we want to make sure we do it justice.
This year's visual identity was put together by us with Cole Williams on principle design. We've described the identity as:
"wanting to bring a fun/party energy this year as we return to person and really highlight the eclectic nature of Parallels. It's a collage of the creative and expressive. A build up of everyone, leaving their (often temporary) mark on the world, regardless of who wants to look at it and collectively pushing culture forward. It's little bit of a throw back to early 2000's aesthetic of sticker bombing, cheap street art, maximalism (and Dj Hero)"
As we move closer to Games Week, we will have a lot more announcements of who is involved and what we have in store for Parallels this year. Please keep an eye on the Freeplay website and socials. We can't wait to see you all in person and share with everyone their next favourite game! #gamers #Parallels22
Press Kit
www.freeplay.net.au
@free_play