Today we are super excited to announce not one, not two, but three big Freeplay events for both this year and next:
On August 31 we're running 'Play By the Book' as part of the Melbourne Writers Festival 'LitHop' event. We're at Rancho Notorious (upstairs at 1000 Pound Bend) at 2pm. We'll be matching indie games with live readings of classic literature simultaneously. It'll be weird, and hopefully, it'll be delightful.
On October 18, Freeplay and ACMI and presenting Parallels, a brand new day-long event of two great parts. We've got the Parallels Showcase at 7pm, a session in the ACMI studio where we're curating an amazing array of local game makers demoing their games live. You can grab tickets to this right now at the ACMI site. We're keeping this intimate, so get in quick or you'll miss out. Earlier in the same day, we're also running the totally free Parallels Playday, where we've got some great games, activities, and performances throughout the day in the ACMI Lightwell. We'll be talking a lot about both of these events more over the coming weeks.
And finally… in April 2015, we'll be running the next big Freeplay festival. This will be our tenth festival ever, so when we say it'll be big, it'll be big. In fact, we're planning ten days of Freeplay in April next year. That's our biggest festival ever. We're really putting the 'festival' part of our name upfront and centre, too, with the usual talks and panels, but also parties, our awards, performances, social events, game playing sessions, and even completely free panels using the same system you see above that anyone anywhere in the world will be able to watch. We'll be announcing more about our April festival later in the year, including an amazing keynote, and the opening of our awards for entries.
So that's a lot to announce. But we're still not done, and we'll be back with a few more events that we haven't even told you about yet, too.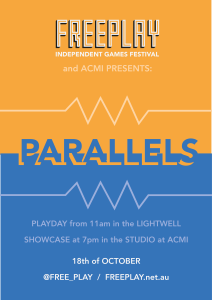 We also have some news about the Freeplay organisation itself. Hugh Davies, the Chair of Freeplay's board, has stepped down after serving in the role ever since the formation of the board. And Gideon Hornung, our Vice Chair, has also stepped down after an equally significant period of service for our organisation. Both have had a huge impact on Freeplay – perhaps more than any one person will ever know – and we thank them deeply for their service.
We're really excited to say that taking up the roles of Chair and Vice Chair are Trent Kusters (League of Geeks) and Jess Kilby (Pop Up Playground), who we introduced you to earlier in the year. They've been amazing so far and we're sure they'll both leave a really significant mark on the festival.
Here's a photo of Trent and Hugh completing the handover. Hugh notes that he's using the UN-sanctioned double-handshake in this photo, rarely witnessed outside of international press conferences. We think it's a great photo that illustrates, apart from anything, the amazing warmth and personality that both Trent and Hugh have brought to Freeplay.
More on all of this is to come, soon. We'll see you at our amazing array of events.