FREEPLAY - MAY 2020
Freeplay is the world's longest-running independent games festival, located in Melbourne, Australia.
Established in 2004, the festival embraces the fringes, spotlights grassroots makers, and acts as a response to and critique of the status quo. For over 15 years, Freeplay has been exploring the vital margins of independent, alternative, and experimental games culture. The festival continues to champion artistic exploration and experimentation in games and playful media, and positions game making as arts practice.
Join us in May 2020 for a week-long festival filled with online talks and panels, our Awards Ceremony, and more!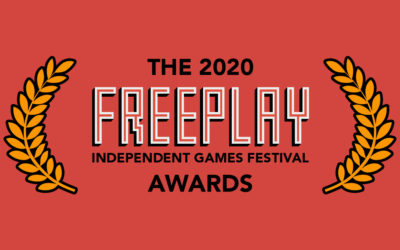 The 2020 Freeplay Awards are now open for submissions. However, we've made the difficult decision to host this year's Awards Ceremony online. The deadline for submissions is Sunday 5th April, 11:59 PM (AEST).
read more
Freeplay acknowledges the Wurundjeri people of the Kulin Nation as the Traditional Custodians of the Lands upon which the festival takes place.
We pay respect to their Elders past, present, and emerging, and to all Aboriginal and Torres Strait Islander people in the wider community and beyond.
Sovereignty was never ceded, and this always was and always will be Aboriginal land.